Ahh, The Hunger Games. One of the young adult's most beloved modern classics. Written by Suzanne Collins, our beloved protagonist, Katniss Everdee,n takes on all with her fury and her desire for survival.
I read this for the YA Icons month! You can check out the post here!
It is most likely not secret to you (unless you've been living underneath a rock for who knows how long) that Suzanne Collins' THE HUNGER GAMES follows our female protagonist Katniss Everdeen in a dystopia where the children of the districts are put into a lottery system to play in the Hunger Games. With one lone survivor each year, the odds are really not in their favour.
I'm not going to lie here, but at first, I was a little disappointed. This book has obviously received LOTS of hype of the years, which increased my expectations. I think this is partially down to the movie adaptation too. Katniss, in the book, is sixteen but in the films she is portrayed older: the voice of Katniss didn't match the image we all have of her (Jennifer Lawrence's portrayal of her). Nevertheless, as I continued to read, I eventually altered my perception of Katniss to one that matched the book version.
Despite this, I think the film adaptation was quite close to the book's narrative. There was things here and there that didn't make it onto the screen--but that's okay! Because features like the night vision glasses weren't a necessity for the plot to continue.
The book is always better than the film, and in this case, it is totally true! As expected, the writing gives us so much more detail on everything. The emotions; Katniss' internal thoughts; the events and inciting incidents; etc.
Speaking of Katniss' internal thoughts, I was able to get a better insight to this in the book; I was so happy about it! When I was first introduced to her character, apart from her protectiveness of her sister Prim, I got the impression that she was quite sarcastic. Her internal monologues weren't focused on as much in the film as I would have liked, so reading about them was definitely refreshing.
These four stars were well awarded! To get that fifth star, I just wanted a little more. And I'm sure that the following books (and eventually the preceding book) will give me just that!
I definitely will be! Though I don't know when yet...
I will also be reading the prequel novel when that is published too!
Time for some fanart!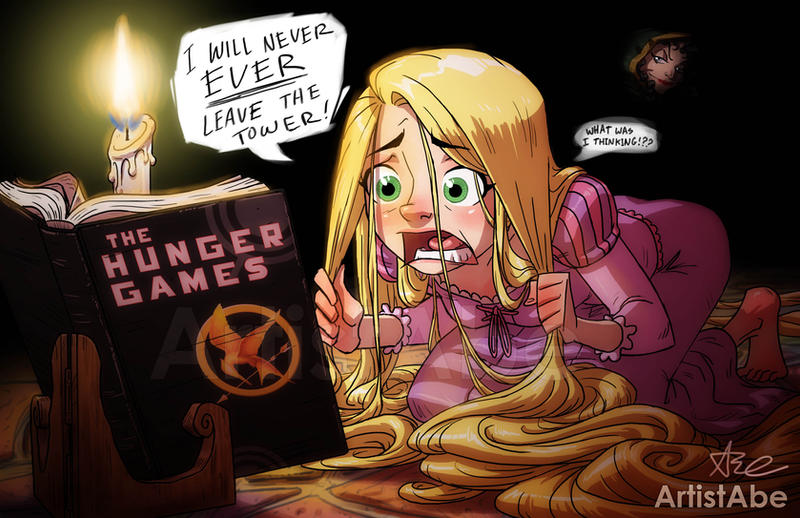 Mother Knows Best... apparently!
This art is by ArtistAbe on DeviantArt!
And perhaps you want some music so make your reading experience that bit was ambient.
Have you read The Hunger Games? What did you think of it? Make sure to leave a comment down below!
Thank you for reading!
Stay awesome,
Want to continue the conversation? You can find me on my social media: