I remember when I got this book signed about 6 years ago. I told him my name and that I wanted to be an author one day. He said that my name sounded like a lovely name for an author, wished me luck and hoped that he would read a book of mine one day. All these years later, I still have the same aspirations and still have the books (this book and
The Fire-Eaters
) that he gave me all those years ago.
Skellig
Book 01 of the Skellig series
Genre: Fantasy, Magic realism, Children's literature, Fantasy
Began reading: June 24th 2019
Finished reading: June 28th 2019
I gave this book a:
My rating!
4/5 stars! (Although it is more of a 4.5 stars because I was stuck between giving it a 4 or 5 stars).
MY REVIEW:
may contain spoilers!
Ahh, where to start?
How about the beginning: when I first opened the book, the first person perspective immediately hit me.
I am not the biggest fan of first person perspective. I prefer third. Nevertheless, I decided to overlook this.
I enjoyed getting to know the protagonists Michael, Mina and Skellig. However, I do feel like there could have been more description of the characters. The best description in the whole book is definitely when Michael first comes across Skellig.
"I thought he was dead. He was sitting with his legs stretched out and his head tipped back against the wall. He was covered with dust and webs like everything else and his face was thin and pale. Dead bluebottles were scattered on his hair and shoulders. I shined the flashlight on his white face and his black suit."
The book is only 170 pages long - at least my edition was - and I feel like the description could have lengthened it to at least 200 pages. But then I remember that the intended audience is from middle grade children and upwards.
Throughout the whole narrative, I was getting a sense of nostalgia. I can't relate to the protagonists (because I have yet to find an angel in my garage) but I can relate to their childhood innocence and boundless amounts of youthful energy.
Would I reread this book again? 10/10 yes I would.
What was my favourite line of dialogue?
Definitely this line by Skellig. By far.
"Something like you, something like a bird, something like an angel... Something like that."
I love it! I can practically feel the magic radiating off it!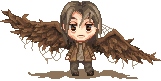 100 fanarts - Skellig (Image Credit: hildegarna on DeviantArt).
Will I be picking up book 0.5 My Name Is Mina?
Of course! I am excited to delve into Mina's perspective, and get to know more of her thoughts and opinions -- especially after she has met Michael and Skellig!
Would I recommend Skellig?
YES! Definitely! This book is available for people of all ages! I'm reading this as a young adult despite getting the book as a child; I hope that I will continue to re-read this even as I get older.
---
I loved this book! I definitely think that it would have been a 5/5 stars if I had warmed to it earlier in the narrative. If I fell in love with the characters sooner, and been able to relate myself to the plot and the characters' situations from the minute I read the first page, then yes, five stars would have definitely been awarded.
Have you read Skellig? Or perhaps you've read other books by David Almond? Let me know in the comments!
Stay awesome,
Hannah x